With the continuous evolution of modern infrastructural design and architecture, foundation systems have transitioned into a new existence. This change in the manner of establishment structural boundaries is primarily driven by material science and modern technology.
One such modern foundation technology is high-capacity helical piles. Today, helical piles have been restructured to carry heavy structures using twin tension and compression. As a result, foundations can now be built using helical piles instead of the traditional methods that are anything but cost-effective. Take the driven piles or drilled shafts, for example. They may drill deep but cost more time and money.
Helical piles offer a broader economic and structural advantage in the course of constructing modern foundations. They can carry heavy loads with relatively low deflection results. Moreover, with design improvements like larger diameter shafts and newly improved grout columns and wall thickness, helical piles are viable instruments.
Also, helical piles have built-in quality features such as its real-time tracking system (RTTS) of the capacity-to-torque ratio in the course of installation. They are cost-efficient and versatile because they offer an optimal performance of traditional foundation methods without their excesses. And these may include soil vibrations, soil removals, and costs of mobilization.
CHANCE® helical pile foundation solution is ideal for situations that require load resistance and lightweight. They also give concrete performance but with rapid installation that makes you complete projects on time.
General applications of the helical pile foundation solution include:
New constructions
Solar foundations
Bridge foundations
Pipeline foundations
Boardwalk foundations
Swimming pool foundations
Cell tower foundations
How does it work?
The helical pile is a foundation solution with a first section containing helical bearing plates joined to a central shaft, from which it passed load to the soil. The helices screw into the ground with very little noise or disturbance.
Helical piles can be mounted on machines like digger-derrick, track-hoe excavator, and rubber-tired backhoe using torque hydraulic motors. Extensions are then joined to the helical pile to attain the required torque capacity or bedrock.
These helical extensions help lengthen anchors and piles and provide extra helix plates for increased load-bearing capacity.
Ultimately, helical pile foundations are suitable in instances where traditional foundation systems are not ideal. And they offer long-lasting solutions with rigid structural support.
High Capacity Applications of Helical Piles in Construction: the Dry Tortugas National Park Case Study
Hubbell Power Systems, Inc. 2014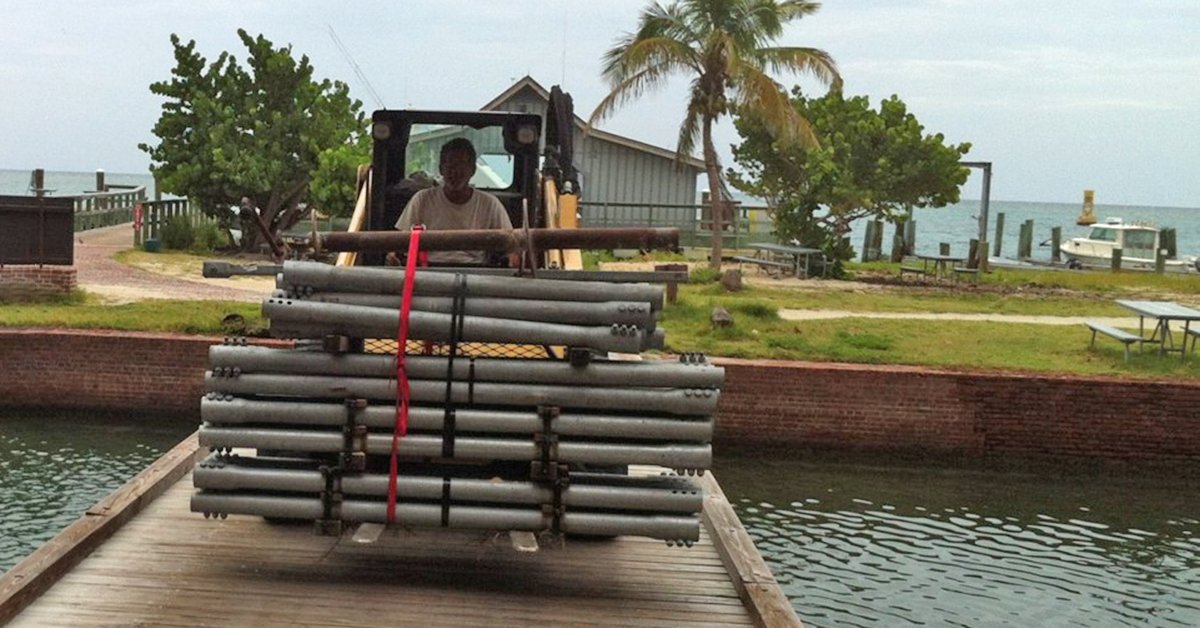 Dry Tortugas National Park is a military fort constructed during the civil war before its transformation into a prison house, known to preserve Fort Jefferson. The small remote island is located 70 miles (approximately 113 kilometers) west of Key West in the Gulf of Mexico and is surrounded by waters, beautiful coral reefs, and protected marine life. But it is only accessible by boat or seaplane.
Two widely different solutions were listed to construct deep foundations, including a traditional auger rig and CHANCE® Helical Piles. But unlike traditional foundation systems, helical piles are cost-efficient and multifaceted, ideal for industrial, commercial, and residential applications.
And such high-capacity applications range from new structures and high-rise buildings to bridges and sound walls. Helical piles can carry out rapid installation and loading capabilities using small equipment, unlike traditional auger rigs.
Though the site required some concrete solution, a traditional auger rig was not ideal due to its noise, vibration, weight, size, and mobilization difficulties. On the site was only a 7-foot-wide bridge with severe weight and width complications and the site headroom restrictions.
So since the biggest problem facing the construction site was access, helical piles were considered to be the ideal solution in those circumstances. A good reason, one would add, asides from their capacity to access tightly inaccessible sites for instant loading.
Based on the test conducted, helical piles were the ideal efficient foundation designs for the site conditions.
As expected, the helical piles proved to be the most efficient and cost-effective foundation design solution for the site soil conditions. Also, they helped eliminate instances of soil removal and soil vibrations that may affect surrounding infrastructures.
Indeed, modern problems require modern solutions. So consult industry-leading experts with certified foundation solutions to meet your foundation construction needs today!