CageCaster®

The CageCaster® casing spacer is a heavy duty steel and solid HDPE spacer used to centralize heavy reinforcing steel cages within drilled shafts, rock sockets and battered drilled shafts as well as on spiral reinforcing steel cages. CageCaster® steel frame reinforcement spacers provide the support necessary while the solid HDPE wheel aides in the process of centralizing the rebar cages during installation into the drilled shaft and throughout concrete placement.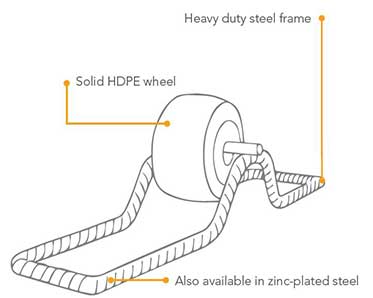 View the CageCaster® Product Sheet.
Properly position reinforcement cages every time.
CageCaster® is installed with the same tie wire used to assemble the reinforcing steel cage. These heavy duty rebar centralizers are built for drilled shaft construction and provide quality assurance for the driller, contractor, engineer and inspector that reinforcement cages are properly positioned off the base of the shaft every time.

CageCaster® Rebar Cage Spacer Minimum Placement Recommendations
Use one CageCaster® per foot (or 304.8mm) of shaft diameter (Minimum of four (4) per tier)
Maximum six (6) foot (or 1.83m) spacing from the top of the shaft
Maximum two (2) foot (or 0.61m) spacing from bottom of the shaft
Maximum eight (8) foot (or 2.44m) interval spacing along the longitudinal axis of the shaft
Interested in pricing? Request a CageCaster® quote by filling out the form below or giving us a call.