Cage Clips

An innovation spacer solution, Cage Clips are heavy duty, snap-on cage spacers designed specifically for close coil bar configuration. They snap over 2 coils bars spaced 2" - 4' and allow for maximum slurry flow and coverage over the spacer. Extra large fits bars spaced up to 7".


Advantages of Cage Clips
Stock Available in 1", 2", 3" and 4" CLR
Fastens on cate exterior eliminating excess interior plastic
Installs easily with one hand
Heavy Duty construction withstands cage weight during handling
Fits between close vertical configuration
Fits on close spiral configurations - up to #5 bar
Compact packaging - 24 x 24 x 24
Economical and indefinite shelf life
Custom modified sizes available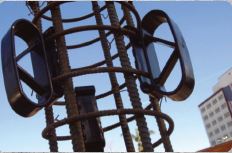 Request a Quote
Have questions about any of our foundation products? Ready to get started on your next project? Looking for expert advice? Request a quote now to speak with our professional team of experts about specifications, pricing, and any additional questions you may have. We'll get back to you within one business day.