UniSpacer™ Single Bar Centralizer

Unispacer™ is a guide and alignment system for centralizing single bar reinforcement spacers within augercast piles, tiebacks, and soil anchors. The Unispacer™ alignment system properly positions and centralizes single bar reinforcement within the shaft prior to or after concrete/grout placement.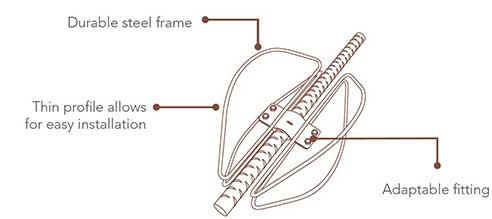 Single bar centralizer for perfect alignment.
Unispacer™ centralizes the single bar reinforcement so that it's properly spaced and aligned within the confines of the shaft or pile structure, providing built-in quality control assurance for the driller, contractor, engineer and inspector that the reinforcement bar is properly positioned within the shaft every time.

Unispacer™ Single Bar Centralizer Minimum Placement Recommendations
Place lower Unispacer™ 24 inches from the end of the bar/bottom of the shaft
Space additional Unispacers a maximum of 15 ft. along the length of reinforcement bar
Each shaft should contain a minimum of two Unispacers per reinforcement bar
The topmost Unispacer™ should be positioned within 2–4 ft. from the top of the shaft.
Working on a drilled shaft project? Our Sonitec® crosshole sonic logging (CSL) tubes allow for sonic structural integrity testing of concrete within drilled shafts. The CSL method has been used for more than 30 years and is the most requested method for foundation integrity testing by the Department of Transportation (DOT) and professionals throughout the construction industry.
Request a Quote
Have questions about any of our foundation products? Ready to get started on your next project? Looking for expert advice? Request a quote now to speak with our professional team of experts about specifications, pricing, and any additional questions you may have. We'll get back to you within one business day.