ProFound® Drill Tips
Profound® Drill Tips are innovative engineered drill tips for drilled displacement piles. They are the preferred choice for displacement pile contractors and top displacement drill rig manufacturers around the world, Profound® Drill Tips are Engineered, designed, and manufactured to the highest quality standards. The broad product offering includes a range of standard and customized drill tips to meet your specific drill rig and project needs.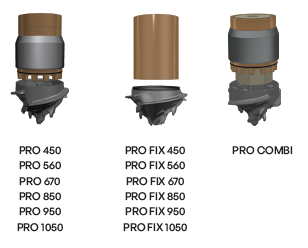 Main Benefits of Using Profound® Drill Tips:
Smart design for optimal drilling performance. Patented tip designs that increase drilling efficiency by 40%. Profound® tips are designed by an experienced team of engineers who have a deep understanding of the displacement pile installation process. Our drill tips provide superior performance in all full displacement pile (FDP) and drilled displacement pile (DDP) applications.
Manufactured to the highest quality standards. Profound® manufactures in accordance with certified ISO 9001:2015 standards, using only the highest quality grades of gray and ductile iron are used in the manufacturing process. This ensures that our drill tips are consistently of the highest quality and meet the needs of the toughest projects.
Customized designs on request. Our experienced engineering team can quickly analyze your requirements and create a custom-made design that offers the best solution for your project. We can customize our drill tips in terms of size, shape, material, and finish. We can also add special features, such as teeth, grooves, or holes. Profound is committed to providing displacement pile contractors with the best possible solution
Environmentally friendly. Profound® Drill Tips are environmentally friendly, made from 100% recycled materials, and produce 3x fewer CO2 emissions than steel parts.
If you are looking to produce the highest quality displacement pile with optimized drill rig output performance, then Profound® Drill Tips are the right choice for you. Contact us today to learn more about the best product fit for your next project.
Request a Quote
Have questions about any of our Profound® Drill Bits? Ready to get started on your next project? Looking for expert advice? Request a quote now to speak with our professional team of experts about specifications, pricing, and any additional questions you may have. We'll get back to you within one business day.