BARBOOT® Rebar Supports
BARBOOT® is a simple and economical means of supporting and spacing rebar reinforcement vertically at the base of drilled shafts. BARBOOT® plastic rebar supports stabilize the entire rebar cage vertically within the drilled shaft and provide proper clearance between the reinforcement cage and the earthen surface. An additional advantage of rebar reinforcement boots is that the encapsulation of the ends of the vertical rebar provides added corrosion protection.
BARBOOT® rebar supports provide quality assurance for the contractor of the subcontractor's performance. At the same time, it provides quality assurance for the engineer and owner of the contractor's performance.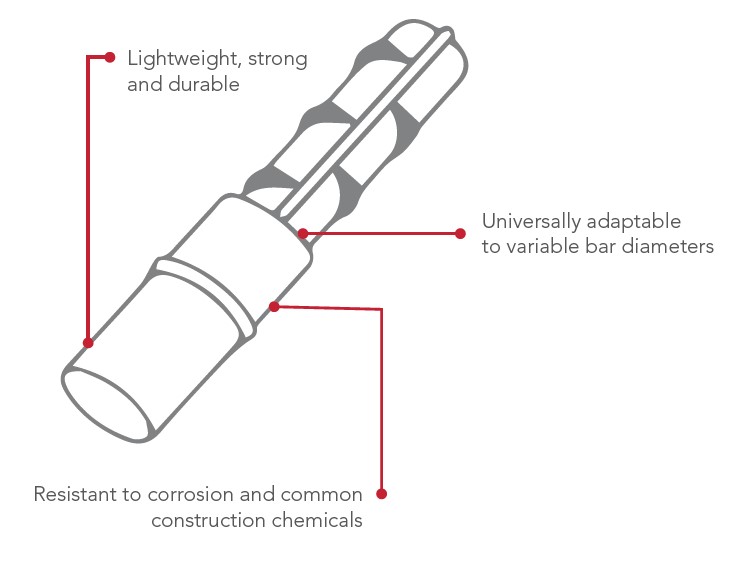 View the BARBOOT® Rebar Supports Product Sheet.
BARBOOT® plastic rebar boots: We've got your clearance covered.
BARBOOT® rebar boots properly position reinforcement cages consistently and are simple and quick to install. These self-locking, high-density plastic foundation boots are built for drilled shaft construction and provide quality assurance for the driller, contractor, engineer and inspector that reinforcement cages are properly spaced and positioned off the base of the shaft every time.
BARBOOT® rebar supports are universally adaptable to variable size bar diameters (one size fits all).

BARBOOT® models will fit #18 bar. Please call to verify cage weight.

BARBOOT® Minimum Placement Recommendations
Equally space rebar boots around bottom of the cage
Use one BARBOOT® per 1500 lbs. of steel cage weight
Minimum of one BARBOOT® every other vertical bar
Working on a drilled shaft project? Our Sonitec® crosshole sonic logging (CSL) tubes allow for sonic structural integrity testing of concrete within drilled shafts. The CSL method has been used for more than 30 years and is the most requested method for foundation integrity testing by the Department of Transportation (DOT) and professionals throughout the construction industry.
Request a Quote
Have questions about any of our foundation products? Ready to get started on your next project? Looking for expert advice? Request a quote now to speak with our professional team of experts about specifications, pricing, and any additional questions you may have. We'll get back to you within one business day.