FDOT Sheet Pile Wall Escambia County, Florida
PROJECT:
Florida DOT Bridge Repair Project located at the overpass of SR95 and SR10 in Escambia County, FL.
BACKGROUND:
Crane access was needed between the North and South bound lanes in order to drive new concrete pilings that would support a new bridge.
The PROBLEM:
Soil between the two lanes of traffic would need to be removed in order to build a ramp to allow the crane access to the work area. Steel sheets would be driven in the median adjacent to each lane of traffic to retain the soil below each lane. Tiebacks were needed to support a waler system that would stabilize each sheet.
The SOLUTION:
CHANCE® Helical Anchors were chosen to tieback the steel sheets. Anchor loads varied from waler to waler and ranged from 20 to 35-kips working load. This product allows various helical bearing plate sizes and quantities to be used on the central shaft of the anchor so the lower capacity anchors were installed with fewer helices, therefore, saving the client in material costs. The CHANCE® Helical Design Software Program, HeliCAP®, determined the sizes and quantities of the helical bearing plates needed to achieve design capacities. The contractor installed a total of 77 CHANCE Model SS150 (1-1/2" Square Bar, 90 KSI) Helical Anchors. Anchor lengths ranged from 20 to 40 feet. Each anchor was equipped with a 1" Dywidag Adapter, 1" Dywidag Bar, 1" Nut, and 6" square plate to allow for connection to the steel waler. Each anchor was pulled tested immediately after waler installation to 125% of the design load and then locked off at 75% of the design load. Anchor installation and testing took approximately three weeks to complete.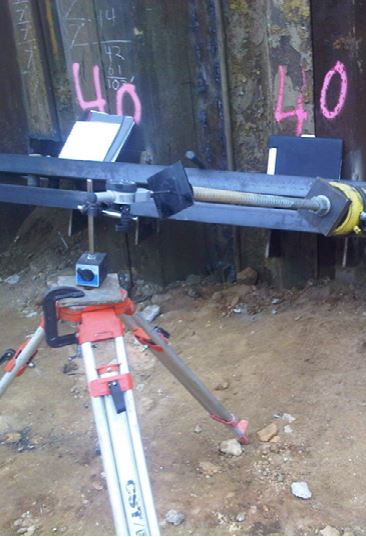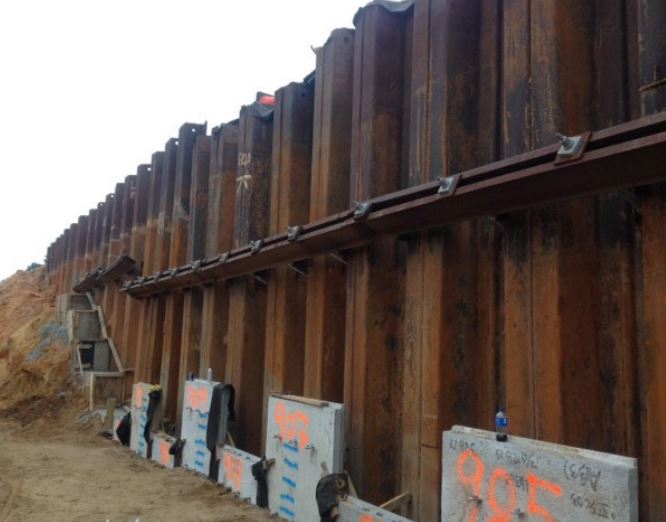 View of the completed anchor and waler system after testing and final lock of.
KEY BENEFITS:
Limited Access
Time to install faster than concrete
Standard equipment for installation
Immediate loading
All weather installation