Fitness Center in Alys Beach, Florida
PROJECT:
Installing CHANCE® Helical Pulldown® Micropiles for a Fitness Center at Alys Beach in Walton County, FL.
BACKGROUND:
Prior to construction, a Geotechnical Investigation was conducted that found the presence of unconsolidated, loose sandy soils to depths ranging from existing grade to 10 feet below existing grade, as well as loose organic/wood laden soils at depths ranging from 15 to 20 feet below existing grade.
The PROBLEM:
The design team was in need of a deep foundation system that was safe to install in a congested area and one that could penetrate the organic/wood laden soils that were present at the site. Several of the borings also showed that soil density did not increase with depth; therefore, a pile that did not rely solely on end bearing to achieve capacity was also vital to this project.
THE SOLUTION:
CHANCE® Helical Pulldown® Micropiles offered the best solution for this project, as they provide greater resistance to buckling, which was needed due to the soft organic layer. They can be installed without generating spoils, or the need for hammering, jetting, or driving, which was important because of the adjacent structures, and they develop higher load carrying capacity by combining end bearing of the helical bearing plates with skin friction along the grout column. This was important because in some locations of the site the sand layers were loose throughout the borings. The working loads per pile ranged from 30-kips to 90-kips in compression. Three load tests were conducted prior to production pile installation to verify capacity for each pile type. Pile types installed were SS150 piles with an 8/10/12 helix arrangement and a 5" grout column, SS175 piles with an 8/10/12/14 helix arrangement and 5" grout column, and SS200 piles with an 8/10/12/14 helix arrangement and 6" grout column. In total there were 137 piles installed and total installation time was three weeks.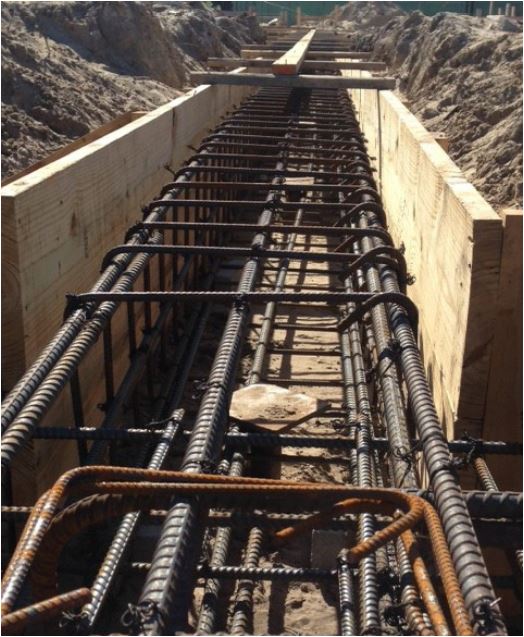 Completed pile system equipped with new construction plate to allow for connection to the new grade beams.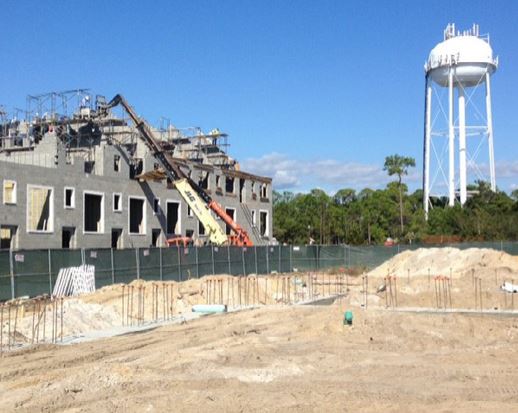 View of the work site in relation to structure under construction.
KEY BENEFITS:
Resistance to buckling in weak surface soils
Stiffer pile (deflects less at a particular load)
Additional corrosion protection in aggressive soils
Higher capacity by combing end bearing and skin friction
Small installation equipment as compared to installation equipment needed for other deep foundations