Flagler County Aircraft Hangar
Background:
Flagler County's Mosquito Control Division needed an aircraft hangar constructed on their property in Palm Coast, FL. During project construction, a soil investigation revealed a layer of organic debris between two layers of dense sand.
The Problem:
In order to adequately support the aircraft hangar, the crew needed to install a deep foundation to transfer the building loads below this organic layer. Ultimately, the foundation would support compressive loads on the order of 24 kips and tensile loads of 10 kips.
The Solution:
CHANCE® helical combo piles were chosen as the deep foundation option. The combo pile utilizes a square shaft lead section and round shaft plain extensions. The square shaft offers excellent penetration, and the round shaft extensions provide greater lateral resistance through the soft organic layer, as the surface area of the round shaft is greater than that of the square.
The contractor installed a total of 112 piles in one 40-hour work week. Each pile was installed to support 24 kips in compression and 10 kips in tension with a safety factor of two. Two tension and two compression load tests were conducted prior to production pile installation. The CHANCE® combo piles were configured with a triple helix 8"/10"/12" SS5 (1-1/2" X 1-1/2" square) lead section and RS2875.203 (2-7/8" round shaft) plain extensions. The piles were equipped with a 7"x7"x0.5" square new construction plate to allow for connection to the poured concrete footings.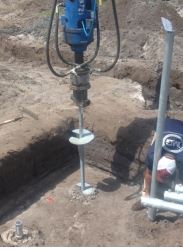 Square shaft lead section installation (back left) Round shaft extension bolted to lead section (right) Square shaft to round shaft transition fitting (front left)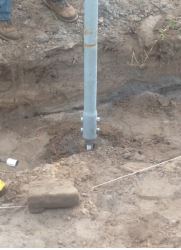 Square shaft to round connection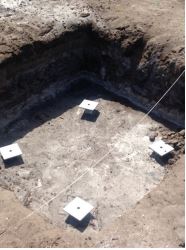 New Construction Plates installed to allow for pile and footing connection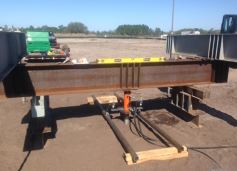 Compression Test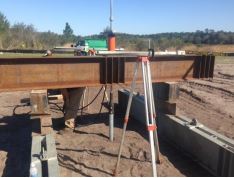 Tension Test
Key Benefits:
Time to install faster than concrete

Standard equipment for installation
Labor savings - smaller crews
Immediate proof testing and loading
Reach competent soil below active zone
Low to no vibration/noise