Florida State University Pedestrian Bridges Tallahassee, FL
PROJECT:
Installing CHANCE® Helical Pulldown® Micropiles for four (4) Pedestrian Bridge Foundations at the Haskins Circus Complex on the campus of Florida State University.
BACKGROUND:
The bridge foundations needed to be designed on deep foundations due to the presence of underground concrete box culverts adjacent to the foundations.
The PROBLEM:
Two (2) new pedestrian bridges were being constructed over a low area of campus with high foot traffic. The bridge foundations where to be constructed within inches of two (2) existing concrete box culverts. CHANCE® Helical Pulldown® Micropiles (HPM) were selected to support the foundations and transfer this load below the culverts, to ensure too great a load was not placed upon the sides of the culverts.
The SOLUTION:
CHANCE® Helical Pulldown® Micropiles were selected for this project because of the limited access that was available at the site, as well as the need for a deep foundation that could be installed without hammering, augering, or using large construction equipment, as noise and vibration needed to be held to a minimum. Two pre-production load tests were conducted, one on a vertical pile and one on a pile installed on a 15 degree batter. Even at 120 kips, which was 3 times the design load, pile movement was less than 1/2 inch. During the project, the piles were installed with a 10,000 lb. excavator and 12,000 ft-lb Eskridge drive head. (48) SS200 piles with a 10/12/14 helix and a 7 in. grout column were installed to depths of 35 - 40 feet and torque values from 5,000 ft-lbs. to 8,000 ft-lbs. Pile installation took five days to complete.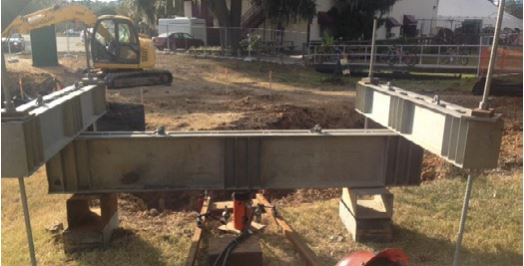 Vertical Load Test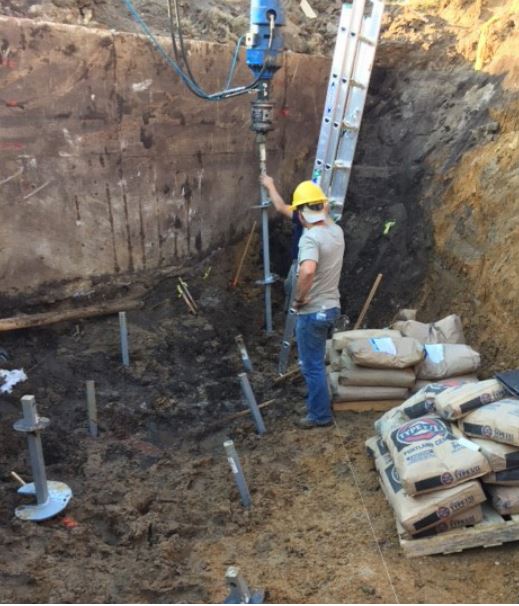 Installation of the helical lead section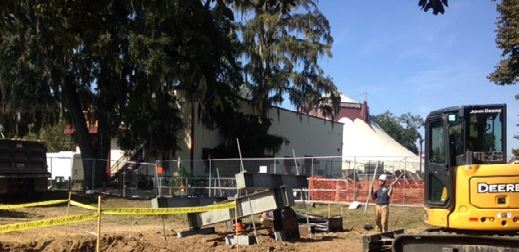 Battered Load Test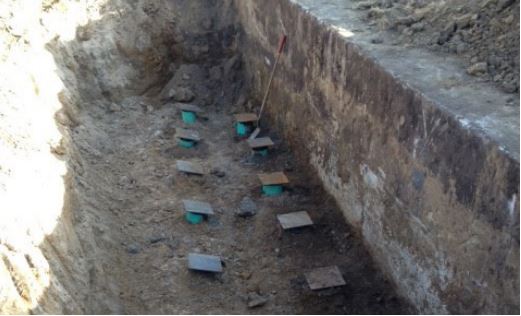 View of completed pile system
KEY BENEFITS:
Limited Access
Quick installation
Low to no vibration/noise
Standard equipment for installation
Lower mobilization costs - smaller equipment
Time to install faster than concrete
Labor savings - smaller crews