Marina San Pablo Coach Homes
PROJECT:
The addition of new coach homes to the San Pablo Marina in Jacksonville, FL.
BACKGROUND:
San Pablo Marina Development, LLC approved to add the Aphora Coach Homes to the property in Jacksonville, FL. On one side of the marina was an existing multi-story condo unit. The new homes were built on the other side of the marina, approximately 1 ft., adjacent, to an existing seawall.
The PROBLEM:
A soil test was conducted across the site that revealed a loose shallow layer of sand, mixed with debris, along the seawall. The results of the soil test, in combination with excessive settlement of current condo foundations, created concern for the proposed new coach homes.
The SOLUTION:
The design team chose CHANCE® Helical Piles as the foundation solution for several reasons. The build site presented several challenges: proximity to condos, an existing seawall, limited access and soil conditions. Helical piles are screwed directly into the soil with vibration-free installation, reducing impact on adjacent structures. Helical piles can also be installed with small construction equipment resulting in low mobilization costs. A total of 20 CHANCE® model RS2875.276 helical piles were installed to depths of 30-35 ft., supporting a working load of 30 kips in compression with a safety factor of two. 73 CHANCE® model RS2875.203 helical piles were installed to depths of 12-25 ft. to support working loads that ranged from 10-20 kips in compression with a safety factor of two Each pile was equipped with a slip on 7"x7"x0.5" square new construction cap to allow for connection to the new poured concrete footings and grade beams. Installation of the piles took approximately five 8-hour work days to complete. As pile installation was completed in one unit, concrete and plumbing contractors immediately began their work to prevent project delay.

View of installation equipment used to install the helical piles. Equipment consisted of a John Deere 50G Mini-Excavator, an Eskridge 12K Drive Head, and a CHANCE Digital Torque Indicator.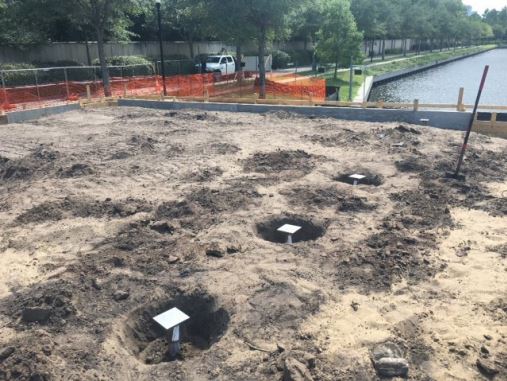 Pile caps installed to allow for pile and footing connection.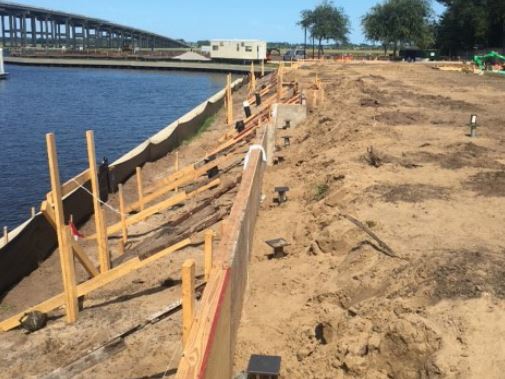 View of the piles in relation to the existing seawall.
KEY BENEFITS:
Limited access
Time to install faster than concrete
Standard equipment for installation
Labor savings – smaller crews
Reach competent soil below active zone
Low to no vibration/noise